Open Water Diver x PADI Enriched Air Nitrox
If you've always wanted to get scuba certified and experience the adventure of the underwater world, this is where you start. Get scuba certified with our PADI Open Water Diver X Enriched Air Nitrox course. Millions of people around the world have learned to scuba dive through the PADI educational system. When you start your PADI Open Water course with us, you learn more than just the basics. You learn how to explore the underwater world. Start your journey today in exploring our water world, you never know what you might find and who might meet along the way.
Why Learn To Scuba Dive With Us?
While we understand you have many options when choosing instructors and shops to get certified through, we strive to give our students the best experience we can provide.
Class Limit of 4 Students Per Class (Ensures a safer and more intimate experience with instructional staff.)
Environmentally Friendly Rental Equipment (Our rental gear has been built from the ground up ensuring we minimize our footprint as much as possible.)
Highly Trained Staff (The instructors are hand picked and trained by our Training Director. They also routinely go through evaluations and trainings.)
Living Wages (We deviate from the industry standard and pay our instructors a living wage. They take care of us so we take care fo them.)
We Support Marine Conservation (A portion of the shops proceeds help fund marine conservation efforts around the world.)
Our Promise
We guarantee to give you the best educational experience in the industry. When you take a course with us you will have a deep knowledge of scuba skills, a confidence of handling your self underwater, and strengthen a childlike wonder for exploring the underwater world.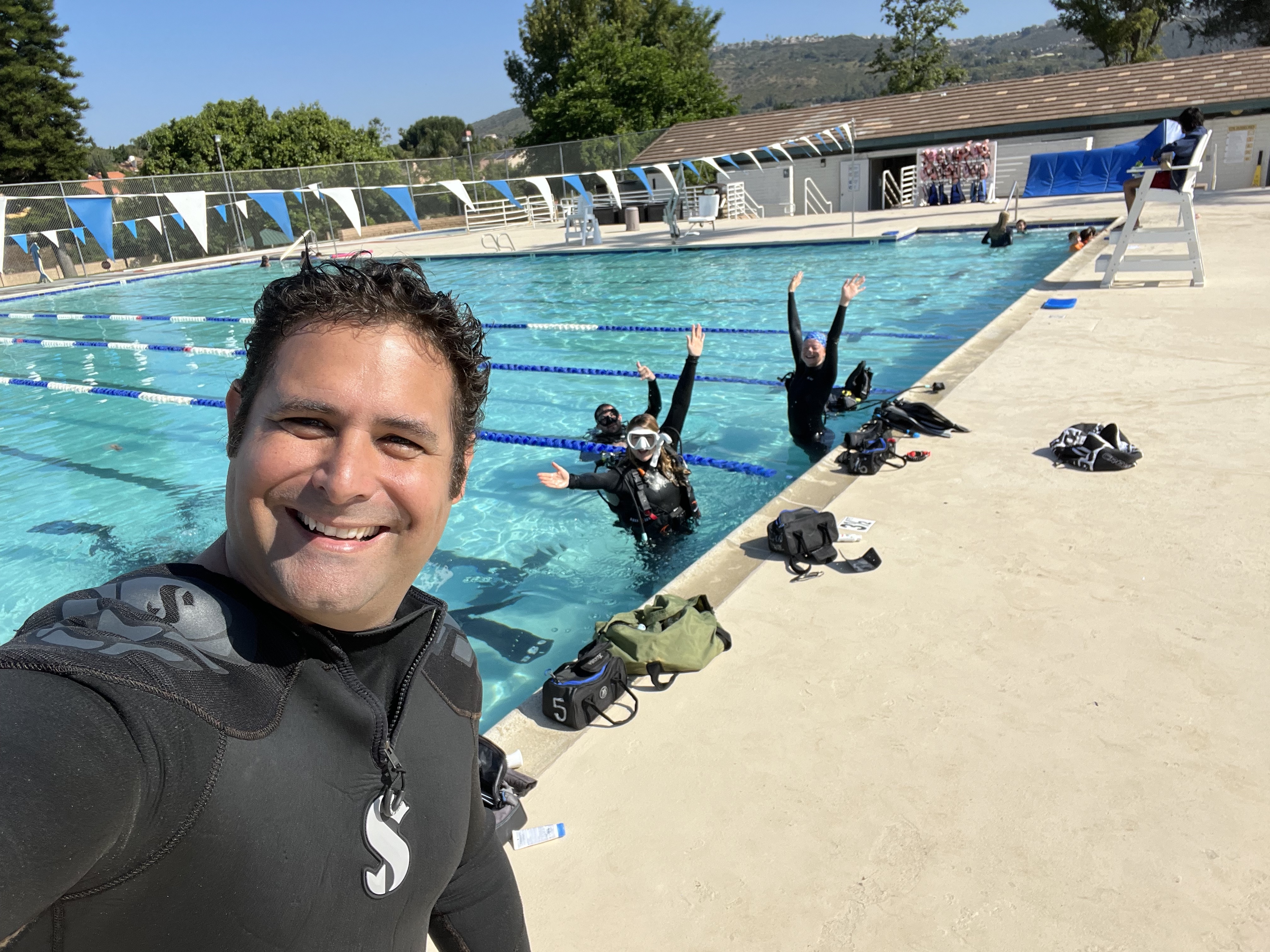 Take This Scuba Course If You Want To
Explore 70% of our planet
Support ocean portection and preservation
See things youve never seen before
Learn from experts
Learn How To
Become a confident and skilled diver
Assesemble and use scuba equipment
Manage bouyancy
Handle common problems
Explore the underwater world safely
Dive with a budy up to 60' (18m) or 40' (12m) for jr divers
Prerequisites
Be able to swim and be medically fit for diving
At least 12 years old (10-11 year olds can join us in a private open water course)
What's Involved?
Your journey to explore the underwater world begins with you signing up for the next available course, filling out some paperwork, getting fitted for equipment, and completing some homework prior to the first night of class. The course is split into 3 sections:
The first section is the classroom session. During the classroom session, you will meet your fellow underwater explorers and your instructor who will be with you for the rest of the course. You and your fellow students will take a quick quiz, and get started learning the basic diving equipment needed for the following session in the pool.
The second session is the pool training. It typically last 4-5 hours per day for two days. This will give you ample time to not only attempt the required skills, but devote time to becoming comfortable and confident in your newly acquired skills. The instructor will be helping you along the way preparing you for the ocean session, the final session to your certification course.
The ocean session is the last part of your certification course. The first day you and your new friends will complete two dives at La Jolla Shores demonstrating a selection of the skills you learned in the pool for the instructor. The second day you'll complete your final two dives surrounded by your new dive buddies.
After This Course
Experience new adventures with a PADI Instructor by your side. PADI continuing education courses like Advanced Open Water Diver will help you develop your skills as a diver.
Not sure which specialty to try first? Try the Advanced Open Water Diver course, it's like a specialty sampler platter.
Improve your navigation and buoyancy skills while you try new activities like wreck diving, night diving, or digital imaging.
Choose from more than 20 specialty diving options.
An Advanced Open Water Diver certification also opens the door to dive sites deeper than 18m/60ft.
Your PADI certification never expires, but after a long period of inactivity, you may want to brush up on diving fundamentals and safety procedures.
What's Included?
Instructional Fee
Student Record Folder
Log Book
eLearning - Open Water
eLearning - Enriched Air
Rental Equipment (Regulators, BCD, Cylinders, Weights, Wetsuit, Gear Bag
Pool Rental
What's not Included?
Required Personal Gear (Mask, Snorkel, Fins, Gloves, Booties, and Diving Hood). Our students save 10% when purchasing personal gear through the store.

Please Note: Class requires a minimum of 3 students to run, if student count is not met registered students will be moved to the next available course or offered private training at an additional cost.
Starting from
Availability: In Stock
0 reviews for Open Water Diver x PADI Enriched Air Nitrox